Telenabler has prepared a white labelled VoIP App that can be used as an added value to the MVNO Proposition.
OTT VoIP App is the Smartphone software developed for Apple iPhones (iOS) and for Google Android-powered phones, integrated with Payment Services.
The system is developed and powered by Voneus, whereas the payments are being delivered by Partners of Telenabler.
The App can be branded (customized) or white label.

It is possible to translate the app and web portal into Swedish/Danish/Polish etc. for international customers.
The App can be used for MVNO's home market, travelers and expats.
It works similarly to a regular phone. You'll be able to make and receive calls from anywhere you are connected to a Wi-Fi or data connection. Just give your friends your Telenabler number; they'll never know the difference because a Telenabler number is the same as a regular landline phone number. You can be anywhere in the world and use your App to receive all of your calls
If you want to call friends and family, simply purchase minutes and get our guaranteed lowest rates to any country you call.
Diagram: App Network interconnect design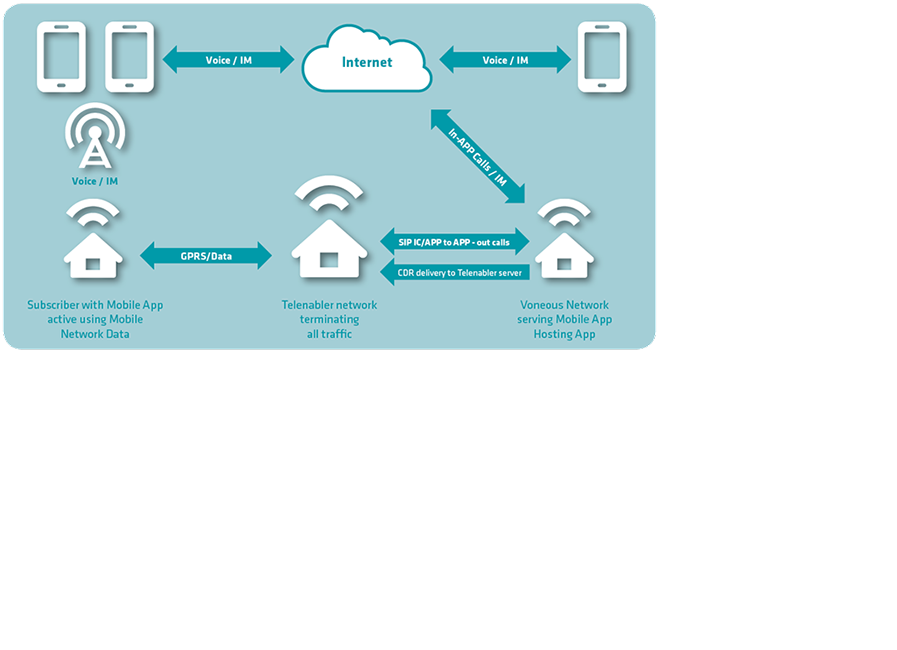 Create incremental revenue from your brand
Revenue from using the app for international calls
Build a loyalty of your customer after his back home from his travels and still have the App installed
Annual membership fee
Use the app as a marketing tool – use push messaging to keep your subscribers informed
App downloads create commercial value




©2017 Telenabler All rights reserved.